Bike And Mountain Bike Tours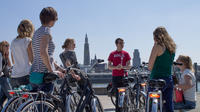 3-Hour Antwerp Bike Tour
Bike & Mountain Bike Tours
Price $26.21
Departing from Antwerp's Central Station several days a week'at 10am, this bicycle tour takes you around the city's top attractions over the course of'three hours. Hop on your'saddle and pedal along the city streets as you follow your local guide on a tour that will pique your senses and get your blood pumping.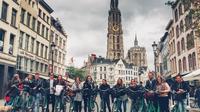 Antwerp Bike Tours
Bike & Mountain Bike Tours
Price $25.07
Cycle through the city on this guided bike tour in Antwerp.' Interesting and fun for all ages, including children seats, baskets, helmets, bikes, e-bikes, classical bikes, and more. You have five different tours to choose from: Classic, Classic by Night, Kids Tour, De Koninck Tour (beer tasting and brewery visit), Burie Chocolate Tour, as well as the culinary Winter Tour (fish and hot drink included).' Be amazed at this bustling area while on your sensory-driven or family-friendly adventure.